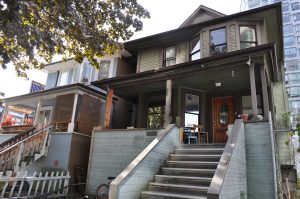 VANCOUVER— The Christy Clark government is still in a state of denial and delay when it comes to critical housing problems in Vancouver, despite evidence brought forward by the B.C. New Democrat Official Opposition and acknowledgement from the federal government.
"The Christy Clark government spent two years denying there was a problem with the cost of buying a home for your family in Metro Vancouver, and still continues to deny and delay when it comes to ongoing housing problems," said New Democrat official opposition housing spokesperson David Eby.
"Premier Clark's housing minister previously insisted that landlords might not be abusing a fixed-term lease loophole to increase rents beyond legal limits. Now that the minister has finally admitted there is a problem, he still refuses to act. Today marks what should be the first day of the fall session of the legislature. The Christy Clark government could have shown up and closed the loophole immediately, but they would rather campaign and allow some landlords to continue to exploit the loophole."
Eby also said that he is happy to see recognition from the federal government on speculators avoiding taxes in Vancouver's housing market, despite denial from the Christy Clark government.
Eby has been using the province's own data to show the Clark government that people with apparently little to no income are buying million dollar homes in some of Vancouver's most expensive neighborhoods. With this information, Eby raised concerns about the sources of the money inflating Metro Vancouver's housing market, and speculators evading the capital gains tax.
"We applaud the federal government for closing loopholes on speculators evading taxes," said Eby. "Fortunately for British Columbians, they ignored the Premier and her Minister's bizarre statements of denial and decided to take action."
In response to Eby's findings, Premier Clark said she questioned the validity of her government's own land title documents, and Vancouver Liberal MLA Andrew Wilkinson said Eby was on a "witch hunt" and that his concerns were "crazy."
"I'm curious whether the Christy Clark government believes the federal government is also on a witch hunt, or whether they now regret their outlandish comments," said Eby.
"Every day I hear from people who want to see real leadership when it comes to the housing crisis. John Horgan and the New Democrats Official Opposition will continue to advocate and lead the fight for affordable housing and homes across B.C."