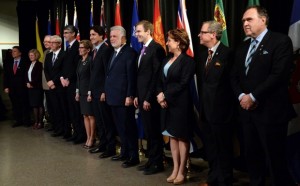 VICTORIA— Premier Christy Clark admitted this week that she has steered British Columbia into failure when it comes to her government's greenhouse gas emission targets.
Speaking with media about her own legislated 2020 targets, Clark admitted that they likely won't be met, that she will have to abandon them and attempted to deflect blame onto the other provinces.
"Will the new targets recognize all the work that we have been doing for eight years, while nobody else has been doing anything?" Clark asked the Globe and Mail. In fact, since 2007, B.C. ranks seventh out of 10 provinces in reducing GHG emissions.
Spencer Chandra Herbert, New Democrat environment spokesperson, says it's clearly Premier Clark who has been holding back progress in B.C.
"Emissions have gone up in B.C. every year since Christy Clark became premier. On every file from building retrofits, to public transit, to the carbon tax, to LNG loopholes, Premier Clark has willfully ignored the GHG targets that were passed into law by her predecessor," said Chandra Herbert. "Now the consequences of that neglect are coming home to roost, and the premier is looking for someone else to take the blame."
Earlier in December, the premier's Climate Leadership Team reported that B.C. would blow past its 2020 emissions reduction targets, and would need to take dramatic action to have a chance of meeting the 2050 target.
"Targets are meaningless without policy, and Premier Clark simply cannot be trusted to deliver on real climate action," said Chandra Herbert.