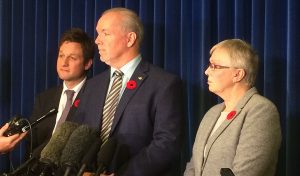 VICTORIA – New documents released by the B.C. New Democrats show that Christy Clark's government is making up excuses for why they are indefinitely delaying school seismic upgrades and putting hundreds of children's public safety at risk.
"When the Christy Clark government told school trustees, parents and kids in Greater Victoria and Port Coquitlam that their scheduled seismic upgrades were cancelled, they said it was because it didn't fit with their enrollment requirements, despite hundreds of kids being enrolled in the schools," said B.C. New Democrat leader John Horgan. "Our documents show that those enrollment requirements that they used as an excuse don't exist. It was pure fabrication.
"The truth is, hundreds of children's public safety is at risk simply because the Christy Clark government doesn't care about schools and child safety in Greater Victoria and Port Coquitlam, because that isn't where her election campaign focus is."
In 2013, days before the election, Premier Clark promised students, teachers and parents at Shoreline Middle School in Greater Victoria and Minnekhada Middle School in Port Coquitlam that these schools would be seismically upgraded in 2014-15. The premier failed to deliver on her promise and both schools are still waiting for the necessary upgrades.
In May 2016, the Greater Victoria School District sent a letter to the Board of Education, saying that they were informed by Christy Clark's education ministry that despite Shoreline Middle School having hundreds of children enrolled and being at the highest level of seismic threat, it will not receive their scheduled seismic upgrade, blaming "low enrollment." When the school board asked Clark's education ministry how high enrollment had to be, they were informed that "a 95 per cent utilization rate for the school now and into the future was a reasonable target."
The same story was told to concerned parents at in Port Coquitlam when that school's scheduled seismic upgrade was cancelled by the Christy Clark government. An October 2016 letter from the government tries to justify the cancellation, saying "given the low enrolment in the school this has required significant analysis of likely future demand and what the best size may be over the long term."
Yet, internal documents recently received by the B.C. New Democrats clearly state, "There are no capacity targets for seismic upgrades," and "the 95 per cent threshold…applies only when looking for new schools or expansions. It is NOT a seismic target."
When Christy Clark promised in 2013 that Shoreline and Minnekhada would get their seismic upgrades in 2014-2015, she said "Absolutely nothing is more important than keeping our kids safe."
"Premier Clark clearly wasn't telling the truth, because her government cancelled those two upgrades, and made up excuses to tell parents and put kids at risk for her own political reasons," said Rob Fleming, New Democrat education spokesperson. "If she was being up front and honest with parents, she would have said spending money in her areas that line up with her political targets is the most important thing to her."
"There are 265 students going to Shoreline Middle School and according to district documents, that enrollment is expected to increase. They deserve to be safe if an earthquake happens," said Maurine Karagianis, MLA for Esquimalt-Royal Roads. "If Christy Clark stood by her word, she would begin Shoreline's upgrade immediately, and stop playing politics."
"Minnekhada had 453 students enrolled last year, and it's completely unacceptable that the Christy Clark government is using the excuse of low enrolment for failing to seismically upgrade this school and put children's safety at risk," said Mike Farnworth, MLA for Port Coquitlam. "Christy Clark's political strategy shouldn't be at the expense of safety for hundreds of children."
Here is a link to the referenced documents: http://bit.ly/2ebfuMM