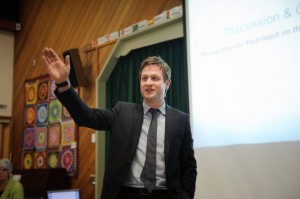 OSOYOOS— With the unfortunate decision to close the only high school in Osoyoos because of funding pressures created by the Christy Clark government, New Democrat education spokesperson, Rob Fleming, says local MLA Linda Larson has failed her community.
"As the MLA for the region, Ms. Larson should have attended each and every meeting on the closure of Osoyoos Secondary, and she should have been meeting with Education Minister Mike Bernier to find solutions that work for families in Osoyoos. Unfortunately, she failed on both of counts," said Fleming. "Closing this school shows that the Christy Clark government isn't there for families in small communities like Osoyoos."
On more than one occasion, Boundary–Similkameen MLA, Linda Larson, has said there is just no point in attending public meetings on school closures in Osoyoos.
In 2002, Premier Christy Clark (then the education minister) changed the way that schools get funded, leading to more than a decade of shortfalls that are forcing communities to cut school programs and close doors.
To make matters worse, the Christy Clark government has been downloading costs onto school districts, and over the last two years they have forced school districts to cut $54 million from administrative spending, this is when school district administrative spending is lower than in any other school system in North America. The result is that school districts have been left with no choice but to close schools.
Under the Christy Clark government watch, more than 240 schools have closed, and we have seen countless schools closed over the last few months in small towns throughout British Columbia.