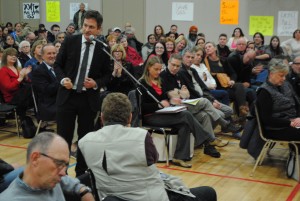 OSOYOOS – More than 900 parents and community members fighting to keep the high school in Osoyoos open packed the Sonora Community Centre gymnasium Tuesday evening.
"It was disappointing to see B.C. Liberal MLA Linda Larson lived up to her vow that she would not attend the meeting to hear what her constituents and parents of children in Osoyoos say about how the school closure will impact their lives," said New Democrat education spokesperson Rob Fleming. "The B.C. Liberals have dragged down B.C.'s education funding from second best in Canada to second worst – that's what is forcing school closures in towns like Osoyoos.
"These parents need a voice. MLAs have a responsibility to represent their community, but if Christy Clark's MLAs ignore their own constituents, New Democrats will step in and fight to make sure they are heard."
Fleming is touring the Okanagan, speaking with parents, teachers and community leaders about the effect of Christy Clark's funding cuts and downloading of costs for education on school boards.
"The education purse strings are held by Christy Clark and her funding policies are forcing school boards to contemplate drastic action to meet impossible budget targets," said Fleming. "Closing schools in towns like Osoyoos is simply giving up on the community and the needs of families.
"I agree with the parents – we need more time to come up with solutions that work for the community because the options the Clark government has forced on the table are unacceptable."
Fleming will continue his tour this week and will be taking his findings back to Victoria to push Christy Clark and MLA Linda Larson to stop ignoring parents in Osoyoos and across British Columbia.