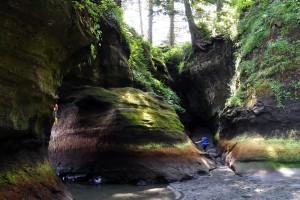 VICTORIA— Scott Fraser, New Democrat MLA for Alberni-Pacific Rim, introduced legislation today that would protect B.C.'s caves for generations to come.
"Caves in this province have great cultural and environmental significance, but we have failed to protect them. Every year, more caves are looted, vandalized and littered with garbage, and there is little we can do to stop those responsible. People throw trash and broken items into some caves, and in others, they break off stalagmites and stalactites that have developed over hundreds, if not thousands, of years," said Fraser.
"If passed, the Cave Protection Act would replace the current haphazard approach to protecting caves with a systematic framework, and give government the ability to prosecute vandals and regulate irresponsible land use."
B.C.'s caves are internationally renowned, and Vancouver Island boasts more than 1000 – the largest concentration of caves in North America.
Fraser first introduced the Cave Protection Act in 2010, but the B.C. Liberal government failed to pass it.
"These caves are an asset to our province, and if we take the necessary measures to protect them, generations after us can continue to enjoy them. I invite all MLAs to join me in taking these simple steps to protect this province's unique and beautiful caves," said Fraser.