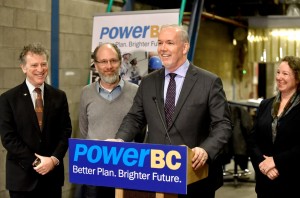 Burnaby — B.C. New Democrat leader John Horgan today launched PowerBC, a sweeping energy plan that creates jobs in every community in B.C. while protecting families and businesses from runaway Hydro bills.
"Our kids and grandkids deserve real leadership. With our plan we are looking forward and creating clean energy jobs throughout B.C.," Horgan said.
PowerBC will launch an accelerated program of energy efficiency retrofits to public buildings like schools and hospitals, as well as industrial and commercial buildings and private homes. The plan would upgrade BC Hydro's existing Revelstoke Dam and other facilities, and free BC Hydro to pursue B.C.'s clean energy potential in wind, solar and emerging technologies in partnership with First Nations and clean energy providers. The plan will guarantee B.C. jobs and training opportunities through local procurement and local hiring.
"By far the most efficient way to meet B.C.'s future energy needs is to save energy now," said Jennie Moore, Associate Dean for Building Design and Construction Technology at BCIT. "Here at BCIT we showed that it is possible to achieve a 75% reduction in energy demand with deep building retrofits."
"Clean energy and energy conservation technology will increasingly power our economy and drive the jobs of the future," says Lee Loftus, Business Manager for BC Insulators Union. "Retrofits will create meaningful skilled employment and apprenticeship opportunities for British Columbians across the province."
"There is huge potential in new clean energy technologies," said Rob Baxter of Vancouver Renewable Energy. "PowerBC will allow us to take advantage of the best of these technologies."
More details on Horgan's plan can be found here.