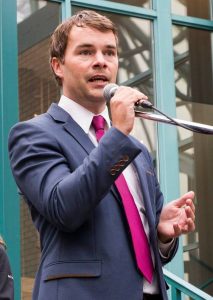 VICTORIA— After New Democrats and LGBTQ advocates pushed for years for B.C. schools to have explicit policies to protect LGBTQ youth, the B.C. Liberals finally relented and announced changes, say New Democrats
"LGBTQ youth face much higher rates of violence, bullying and suicide and need help to succeed in our schools. But for years while New Democrats were advocating for protections for these vulnerable youth, Christy Clark said no, even though other provinces were taking the lead," said New Democrat MLA Spencer Chandra Herbert.
After years of pressure put on by New Democrats led by the efforts of Chandra Herbert, along with advocates, the government finally announced it will put in the necessary policies to ensure that LGBTQ youth in schools are protected.
"For years Christy Clark's government said that protections for sexual orientation was not an issue. Had she put these protections in earlier we could have protected many young people from violence and bullying," said Chandra Herbert. "With the election coming up, Christy Clark is finally reversing her position and putting these protections in place. I'm thankful that the hard work from parents, teachers, students and New Democrats is finally being recognized."