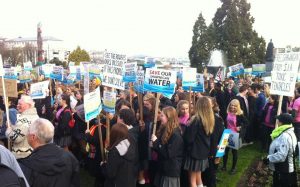 SHAWNIGAN LAKE—  MLA for Cowichan Valley, Bill Routley, issued the following statement on the ongoing threat to the drinking water supply at Shawnigan Lake:
"The people in Shawnigan Lake and across B.C. know that threatening any community's drinking water supply is not only foolish, but dangerous.
"Meanwhile, Premier Christy Clark and her government are refusing to keep our water clean and safe. Instead, they're allowing contaminated soil to be dumped in our watershed, threatening the safety of our water.
"It's unacceptable, and it has to stop. It's long past time for the Premier to step in and pull the permit for South Island Aggregates, and find somewhere else to dump contaminated soil.