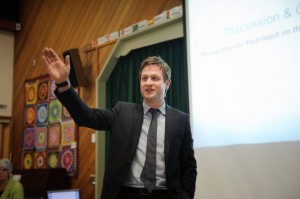 VICTORIA— A petition signed by 3,600 Richmond parents was tabled in the B.C. Legislature today by the New Democrats demanding that Christy Clark and the B.C. Liberals keep neighbourhood schools open and make them seismically safe.
"Parents across B.C. are getting organized to save their kids schools and fight for better funding for public education," said B.C. New Democrat education spokesperson Rob Fleming. "We've gone from the second best funded K-12 education system in Canada to the second worst under the B.C. Liberals and the cracks are showing all over the province. Sadly, we have seen B.C. Liberal funding policies targeting schools for closure in Richmond, Vancouver, and here in Victoria."
In addition to the threat of closure of Lower Mainland schools, we have seen seismic delays at schools like Shoreline Middle school here in Victoria. The Christy Clark government has delayed seismic upgrading at Shoreline, which was set to begin this year, because the school has failed to meet the government's arbitrary utilization guideline of 95 per cent.
"Christy Clark has been promising for over a decade that B.C. schools will be made safe by 2020, but after the 2013 election, she broke her promise to parents and students and delayed seismic upgrading by another five to ten years," said Fleming. " This is a reckless gamble with the lives of kids and school staff."
The petition tabled today was gathered at the end of the last school year by the grassroots parent group Richmond Schools Stands United. It calls on the government to change the Ministry of Education directive that school districts with less than 95 per cent capacity utilization must close schools or risk not having any capital funding approved. The petition calls this capacity utilization policy "arbitrary and unreasonably high" and notes that 85 per cent utilization rates are in line with provincial standards elsewhere in Canada.
"Under Christy Clark's watch, her government has broken countless election promises and neglected public education across the province," said Fleming. "Families deserve better than a premier who clearly isn't there for them and B.C.'s public school system."