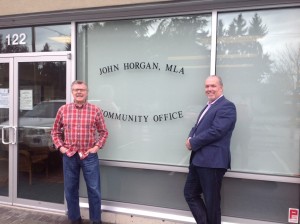 You can contact my office using the methods below. My staff will respond as quickly as possible. Please be sure to include detailed information including your postal code so we can ensure that the appropriate MLA is assisting you.
If you are not a constituent of Langford-Juan de Fuca, please write to me at premier@gov.bc.ca or by phone at 1-250-387-1715.
You can also find out who your MLA is here: Find Your MLA
Office Hours:
9am – 4:30pm, Monday through Friday.
In person or by mail:
Langford – Juan de Fuca Community Office
122 – 2806 Jacklin Road
Victoria, BC V9B 5A4
Telephone: 250-391-2801 | Fax: 250-391-2804
To subscribe to my e-newsletter, please e-mail john.horgan.mla@leg.bc.ca