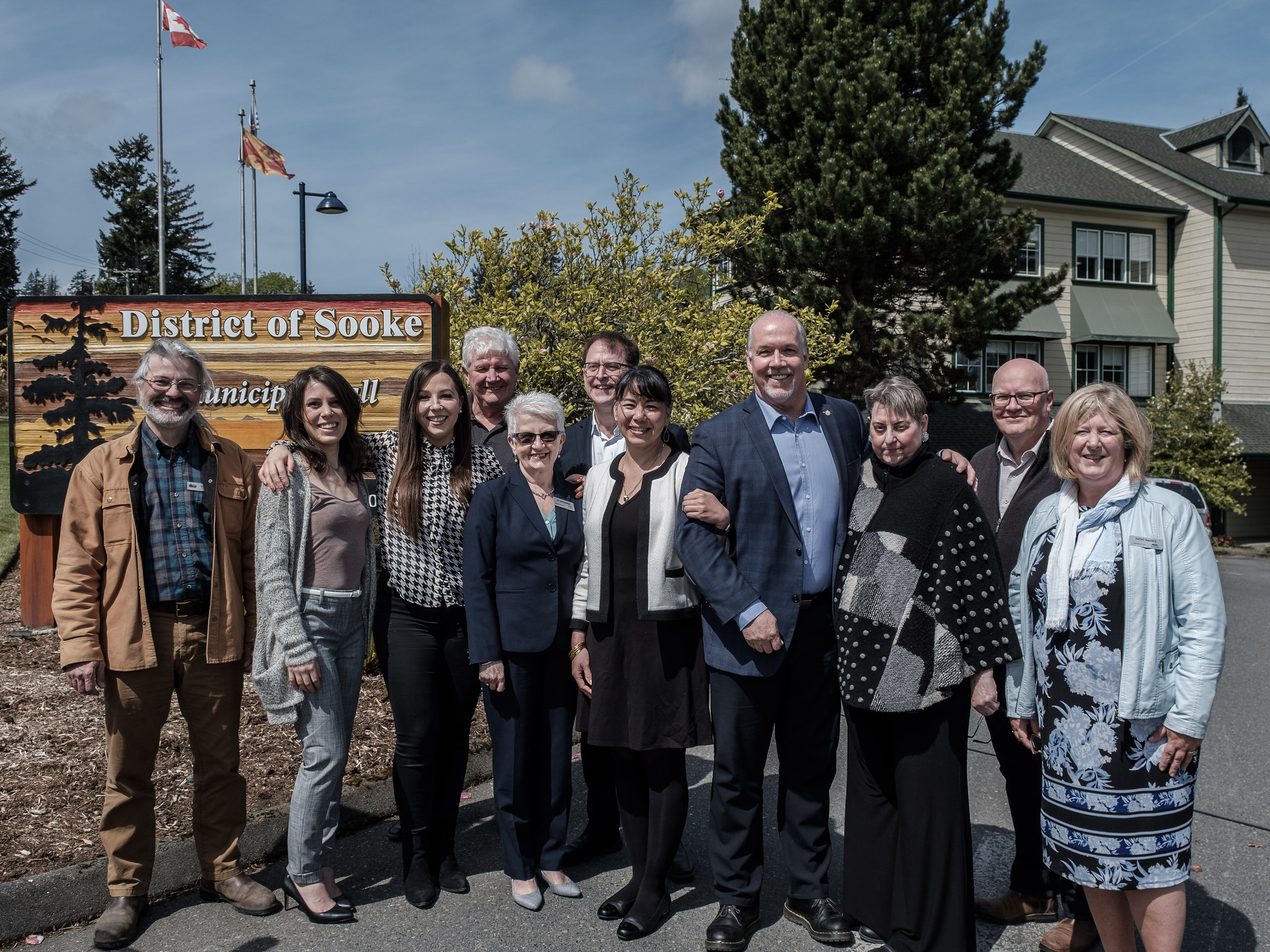 People in Sooke will soon have better access to primary care, with the expansion of team-based care in the West Coast Family Medical Clinic.
"The improved West Coast Family Medical Clinic is part of our government's primary care strategy that brings team-based care to people in their communities," said Premier John Horgan. "This expansion will not only give people in Sooke better, faster access to the health care they need, it will provide new jobs for health-care providers in the area."
When fully operational, the provincial government will provide more than $1 million annually to support team-based care at the West Coast Family Medical Clinic through the recruitment of two general practitioners, one nurse practitioner and two registered nurses, who will join the existing team. The expansion of team-based care will strengthen the clinic's services, including primary care, newborn and post-partum care, non-emergency urgent care and medical services to the Elders' Wellness Clinic at the T'Souke Nation.
"People in Sooke have banded together to advocate for improved primary health-care services in the region for many years," said Adrian Dix, Minister of Health. "Expanding the West Coast Family Medical Clinic is a significant step in supporting improved access to health-care services for the more than 4,000 people in Sooke who do not have consistent primary care."
The West Coast Family Medical Clinic will remain open in its location at 1300 – 6660 Sooke Rd. Renovations to expand the clinic into adjacent offices will begin after June 2019. In the interim, the clinic will gradually add new health-care team members.
Expanding the West Coast Medical Clinic in Sooke is part of the Province's work to strengthen health care in the region and throughout the province. The Westshore Urgent Primary Care Centre opened Nov. 5, 2018, and has served more than 7,600 patient visits.
The Province has announced eight urgent and primary care centres around B.C., which have served more than 25,000 patients since the first one opened Aug. 27, 2018. Primary care networks have been launched in the Fraser northwest, Prince George, Burnaby and South Okanagan Similkameen. Work is underway to launch additional primary care networks throughout the province.
People living in Sooke and South Vancouver Island are also benefiting from government's new surgical and diagnostic strategy, which has reduced wait times for hip and knee surgeries, and increased MRI exams.
Quick Facts:
The expansion of the West Coast Family Medical Clinic is a partnership between the local government, Island Health and the South Island Division of Family Practice.
The West Coast Family Medical Clinic is open Monday to Friday, 7:30 a.m. to 6 p.m., and on Saturdays from 9 a.m. to 1 p.m.
A total of 10 urgent primary care centres will be in operation throughout the province by spring 2019.
In addition to these centres, the Province's new primary health-care strategy, which is focused on providing all British Columbians with improved access to team-based health care, will see government fund and recruit 200 family doctors and 200 nurse practitioners, and hire 50 clinical pharmacists.
Primary care is the day-to-day health care given by a health-care provider. Urgent primary care is the care that people need within 12 to 48 hours, for conditions, such as sprains, urinary problems and minor cuts or burns.
Throughout the province, 70% of communities will form primary care networks over the next three years. These networks will bring together and co-ordinate local health-care providers, services and programs, making it easier for people to access regular care providers, receive followup care and connect to other services they may need.