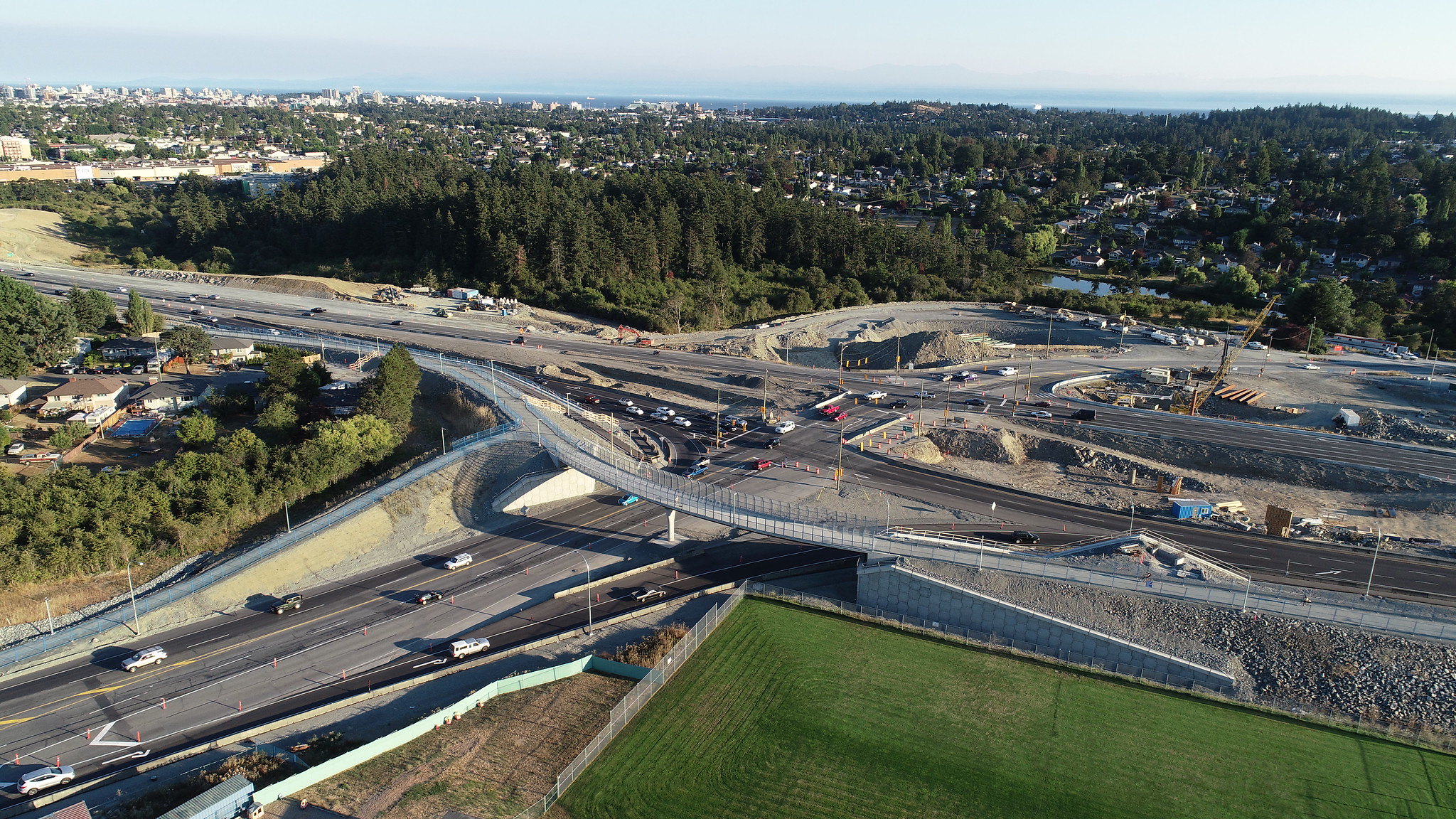 The Ministry of Transportation and Infrastructure is actively working to reduce traffic congestion in the Capital Regional District (CRD) through investments in infrastructure and public transit.
A number of projects to improve efficiency and capacity are underway. The B.C. government will continue to identify and prioritize solutions to support these growing communities moving forward.
South Island Transportation Strategy
A study to determine long-term solutions for getting people moving more efficiently throughout south Vancouver Island is underway.
The South Island Transportation Strategy will look to identify improvement options for transit, cycling, pedestrian movements, ferry services, rail and existing roads and the connections between them. The study area will go as far north as the Duncan area and as far west as the Sooke area. It will look at current transportation demands and develop a roadmap for future investments across all modes of travel.
The study will be completed in spring 2020 and will identify specific transportation investment opportunities in the South Island region.
Priority bus lanes
Priority bus lanes along the Trans-Canada Highway are an efficient solution to gridlock in the CRD, which is why the Province has committed to accelerating work in this area. The Douglas Street/Highway 1 corridor currently supports as many as 1,700 vehicles per hour during peak travel times. At the same time, BC Transit transports 40% of people travelling this route during peak hours, while only making up 3% of the traffic. The ministry's goal is to keep increasing the number of people who choose transit to help cut the congestion.
Bus lane projects:
Southbound Burnside Bridge to Tolmie Avenue – completion in spring 2020 (Province of B.C.)
McKenzie Interchange (includes bus lanes) – completion in summer 2020 (Province of B.C.)
Northbound Tolmie Avenue to Burnside Bridge – completed in 2018 (Province of B.C.)
Southbound Tolmie Avenue to Hillside Avenue – completed in 2018 (City of Victoria)
Northbound Fisgard Street to Tolmie Avenue – completed in 2015 (City of Victoria)
Southbound Hillside Avenue to Fisgard Street – completed in 2014 (City of Victoria)
Malahat
The ministry wrapped up the $34-million Malahat Village Safety Improvement project in the fall of 2018, which included expanding five kilometres to four lanes, installing three kilometres of median barrier and improving highway access through a frontage road system. 65% of the highway is now protected with a median barrier, with more safety upgrades being explored.
Work is underway to widen Highway 1 to four lanes between Leigh Road and the Westshore Parkway. This $14-million project will improve safety at the southern gateway to the Malahat.
McKenzie Interchange
The $96-million McKenzie Interchange is being built to reduce congestion and improve safety for drivers, transit users, pedestrians and cyclists along one of the busiest corridors in B.C. Fixing this bottleneck area along Highway 1 will save drivers an estimated 20 minutes in each direction, allowing families to spend more time together and less time stuck in traffic.
In addition to a new interchange, the project includes bus priority lanes in both directions, new fully accessible, well-lit bus stops, improved pedestrian connections and widening of the Galloping Goose Trail with an overpass over McKenzie and a new bridge for pedestrians and cyclists over the highway.
The traffic lights on Highway 1 were removed in December 2019 to allow traffic to flow freely on the highway. The entire project, including the loop ramp, landscaping and transit facilities, is expected to be completed by summer 2020.
Highway 17/Keating Cross Road Flyover
The project involves a new "flyover" overpass from the Pat Bay Highway (Highway 17) northbound to Keating Cross Road westbound, eliminating the left turn across highway traffic onto Keating Cross Road. The project will also include a realigned southbound on-ramp to Victoria.
The initial project estimate is $44.3 million, with contributions from the Government of Canada, Province of B.C. and District of Central Saanich.
Highway 14
In January 2018, the B.C. government announced major upgrades to the Highway 14 corridor to improve safety and reduce congestion. The $10-million investment includes three new bus pull-outs on both sides of Highway 14 at the West Shore Parkway, Laidlaw Road and Harbourview Road, a slow-moving vehicle pullout east of Muir Creek, a new two-lane bridge on Gillespie Road (which is an important alternative route to Highway 14) and a new rest area at the Sombrio lookout.
A new bus-queue jump lane at Jacklin Road and safety upgrades to the Sooke River Road intersection were completed in June 2019.
In April 2019, the B.C. government announced the widening and realignment of approximately 1.5 kilometres of Highway 14 between Glinz Lake Road and Connie Road, a new park and ride on Gillespie Road, and shoulder widening between Otter Point Road and Woodhaven Road. Public consultation took place in late 2019/early 2020, with construction to begin in summer 2020.
Island Rail (formerly E&N Rail) Corridor
In December 2018, the ministry led a historic roundtable meeting, bringing together the Premier, First Nations, local decision makers and the Island Corridor Foundation to openly discuss the future of the Island Rail corridor. This discussion marked a progressive step forward in ensuring that major stakeholders along the corridor have their voices heard.
The ministry is currently completing a condition assessment to evaluation the condition of the Island Rail Corridor, as well as the costs to bring the corridor up to current standards.
In addition, through its work on the South Island Transportation Strategy, the Province continues to evaluate options for the Island Rail Corridor, considering what will best meet the needs of local communities, First Nations and people in the region.